Rival's Revival of 3-Reel Slots
Rival Gaming has been a large player in the resurgence of traditional slot games with only three reels; the newest release, Ten Times Wins, is the follow-up to the success of the instant classic, Five Times Wins , earlier this year; Ten Times Wins also comes right on the heels of Rival's latest 3-reel wonder Megawins Slots with five-paylines and the Megahawk symbol. Rival has been an innovator and leader in online slot game development and it looks as though Ten Times Wins will continue the streak of success that the developer's at Rival strive for. Many industry leaders see the robust return of the three-reel slot as a reaction to the large complicated games with five or more reels, Pay All Ways and multiple bonus features.
Ten Times Wins Creates Twice the Fun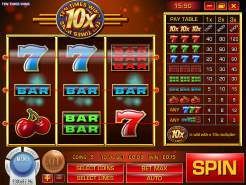 Ten Times Wins is not a complete duplicate of the original as Rival created a color scheme just for the newest traditionally sized slot game. The majority of the icons on the spinning reels are still the cherries, the three-colored bars and stars of various hues. The biggest and most interesting difference between the duo Times Wins slot games are the multiplier symbols as the 10X is double the size of the previous game's multiplier symbol increasing the possibility of spinning an enormous payday. Long-time and new fans of the three-wheeled slot game can be assured that Rival Gaming will continue to release highly entertaining versions of their favorite online game. While classic slots leave some gamblers cold, many of Rival's traditional games are a force to be reckoned with in terms of prize potential. One such title is Ten Times Wins; on the surface, this incredible game looks fairly standard, but a glance at the paytable will tell players otherwise. Coin sizes range from $0.01 to $5.00 in this 3-reel, 3-payline game, and gamblers may place up to three coins on each line for a total maximum, per-spin wager of $45. The symbols on the reels are also pretty standard, extending to include Single, Double and Triple BAR icons in addition to Red, Green and Blue 7s. The final icon on the game is the powerhouse that makes this title one that rose to massive popularity very quickly; the Ten Times Wild Logo acts as a wild multiplier on any payline win that it completes, automatically turning a little win into one with ten times the value it would have had otherwise. Gamers who have wagered all three coins and land three Ten Times Wild Logos on reels one, two and three will receive a stunning jackpot of 1,500, 3,000 or 5,000 coins, respectively.
Costume Party Slots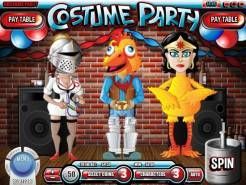 Rival broke away from the classic slot tradition while still providing a very conventional game in Costume Party Slots. Rather than offering gamblers a standard, setup featuring three common reels, players will instead find costumed characters on the screen instead; the head, torso and lower half of each character spin separately, and the goal is to match icons vertically to create a properly costumed character. Gamers will select from one, two or three lines as well as one, two or three characters; view each of the characters as you would when determining whether or not to play one, two or three coins on a more traditional set of reels. Like similar titles from Rival, gamers will have the opportunity select from coin sizes that fall between $0.01 and $5.00. Completed characters aren't even visible on the paytable until they have been completed on the game screen for the first time; characters to complete include the Chicken, Nurse, Cowboy, Superhero, Knight, Astronaut, Witch and Monster. Costume Party also features a wild symbol; depicted by the Gorilla Torso and marked with the word, "Wild," this icon makes it possible for players to score themselves a win where one may not have been otherwise. In sticking with the theme of a party, the "Spin" button is a beer keg; this is important because it can help gamblers on their way toward hitting the jackpot. Completing a Monster on a three-character bet will score players a sweet 1,500-coin win.
Midas Touch Slots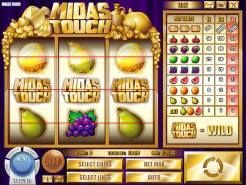 Perhaps the most traditional of the classic Rival games discussed here and a huge favorite of many online casino enthusiasts is Midas Touch Slots . Like the games described above, users can look forward to betting one, two or three coins in this 3-reel, 3-payline game. Featuring many of the common fruit symbols that gamblers often encounter, including Pears, Watermelons, Oranges, Grapes, Limes, Plums and Cherries, gamblers will easily recognize the icons in the set. However, the title also features the Midas Touch Logo, and this serves as the game's wild symbol by replacing any other icon needed to create a winning combination on the reels; interestingly, anytime the wild does generate a win, the fruit symbols appearing with it also turn gold, much like everything in the fable that formed the theme. Finally, a one, two or three-coin bet that sees three Midas Touch Logo symbols on a payline will leave gamblers in possession of a 500, 1,000 or 2,000-coin jackpot, respectively. While everything that players touch may not turn to gold, they can certainly look forward to touching a lot of gold after a big win in Midas Touch Slots.