12 Days of Non Stop Giveaways at Jackpot Capital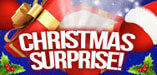 Running right through the Christmas period and well into the New Year, the outstanding online casino Jackpot Capital is providing all mobile players the chance to hit it big and take away some wonderful prizes. Check out the Jackpot Capital mobile casino this festive season and you have the opportunity to win an iPad Air, tons of free cash, Amazon Gift Cards and so much more, Each day running up until January 5th Jackpot Capital is giving away something rather special and all you need to do is deposit $25 or more and play on your mobile device at Jackpot Capital, and the more you play, the better your chances of winning. Each day a draw takes place and the lucky winners get the prize that's on offer for that day, and here's the full amazing list...
Day 1 December 25th - iPad Air
Day 2 December 26th - 2 x $100 Cash Prizes
Day 3 December 27th - Amazon Gift Cards
Day 4 December 28th - 4 x $50 Cash Prizes
Day 5 December 29th - 5 Mini iPads
Day 6 December 30th - 6 x $50 Cash Prizes
Day 7 December 31st - 7 Sets of Freespins on Count Specatular
Day 8 January 1st - 8 x $75 Cash Prizes
Day 9 January 2nd - 9 x $50 Cash Prizes
Day 10 January 3rd - 10 iTunes Gift Cards
Day 11 January 4th - 11 Sets of Freespins on Caesar's Empire
Day 12 January 5th - 12 x $100 Cash Prizes
What a stunning list of freebies that is, and all for just depositing $25 and playing your favorite casino games on your mobile device at Jackpot Capital. The Jackpot Capital mobile casino runs perfectly on all iPhone 4s and upwards, iPad 2, iPad Mini, iPad Air and Samsung Galaxy S3 and S4. If you love mobile slots and table games and want to get your hands on some very extra special presents this year, then stop what you're doing and head over to Jackpot Capital now!