Paste and Pay Depositing Method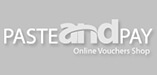 Right now in some of the very best US online casinos, players may deposit using the safe and secure depositing option of Paste and Pay, or EZ Voucher as it is also known. Paste and Pay is a voucher system payment method that is simple and fast to use and allows players to fund their account instantly in an online casino where their credit card may be refused due to restrictions placed upon it. Although many online casino game players use Visa and MasterCard to fund their casino accounts, some players may find that their card gets declined, and while this has nothing to do with their actual card itself, it is down to restrictions banks have in place on some US cards, and Paste and Pay alleviates this problem.
Paste and Pay works a little like a voucher combined with a prepaid card and the beauty of it is that you don't need to go out and buy vouchers, top up a card or anything like that, as this method is available directly in the online casino cashier, meaning that the convenience of Paste and Pay is a huge plus point. There are now many online slots and games players who use this option almost exclusively due to its safety, security and instant funding capabilities and when you add on the fact that you do everything in the casino cashier, you're left with what is a fantastic payment method and a great alternative to credit cards.
How to Use Paste and Pay
As we've mentioned, there is no need to go shopping for vouchers or topping up cards when using Paste and Pay as everything takes place in the online casino cashier. In that cashier you'll see Paste and Pay in the depositing options available, and when you select that option you'll see two buttons appear, and to begin with you need to select the 'Purchase Voucher' option. You'll then be taken through a simple and quick few steps that enable you to purchase the voucher, and once done you'll be provided with the details that then enable you to redeem the voucher in the casino cashier.
When redeemed, the funds that you have placed on the voucher become instantly available in your casino account and you may then enjoy all the real money online casino action that you wish. Paste and Pay is getting more than just a few fans, and the convenience, safety and security and speed that your casino account is funded with is what makes it such a rapidly growing method of use for US online casino games players.
Casinos Accept Paste and Pay