EZ Voucher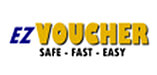 EZ Voucher is a US online casino depositing method that allows you to make safe, secure and fast deposits into an online casino. An EZ Voucher is also known as Paste and Pay and functions in a similar way that a prepaid credit card does and is a great option that's now available in a number of the very best US casinos. Not only does this method offer security and peace of mind, but it's also so easy easy to use and it's growing popularity means that it's now the number one choice for many online slots and casino games players in the US. While many players prefer to use major credit cards such as Visa and MasterCard when making their deposit, it can at times be difficult to use this option as cards may be declined by your bank, due to certain restrictions in place, however with EZ Voucher there are no restrictions meaning that getting your money into the casino, allowing you to play real money casino games, is a simple task. While your credit card may function perfectly in the casino, there is a chance it may not, and that's where EZ Voucher comes in,.
How to Use EZ Voucher in the Casino Cashier
In the cashier of great online casinos such as Miami Club, you'll see that there is a 'voucher' option available. Please note that is may be called EZ Voucher or Paste and Pay Voucher - they are the exactly the same thing. You'll see buttons in the casino cashier that state, 'Purchase Voucher' and also 'Redeem Voucher' and to get your hands on the voucher select the purchase option. Once you've clicked on that you are asked to follow a few very simple steps in order to obtain the voucher with the whole process taking no longer than just a few minutes of your time. You then simply redeem the voucher and you're done. As a prepaid system the funds become available instantly in your casino account, and you may only spend the amount of the voucher that you have purchased. The prepaid voucher methods such as EZ Voucher work well on so many levels, and as you can see, they function without attempting to fund with your credit card, they allow you to manage your spending limits and the fact that funds are approved instantly is perfect for an online slots or casino games player. There's a lot to be said for the fact that so many players now use this method and while credit cards may still be the number one option, we can see EZ Voucher quite possibly catching up.
EZ Voucher Simplifies Website Payments
The convenient online system once known as EZ Voucher, now referred to as PasteAndPay, creates a simple, fast means of payment at online casinos and sportsbooks, and the voucher system offers a number of benefits that potential may have not yet considered. While there are certainly higher levels of security available to users who fund online accounts through a voucher, it also serves as an excellent means of maintaining an entertainment budget, which can be, at times, difficult for certain online casino enthusiasts. When using PasteAndPay, or EZ Voucher, users will need to verify their identity in addition to providing a valid payment method to the website selling the vouchers that can be used to fund online casino accounts. Verify the specific details required by visiting the EZ Voucher website for details.
Security and EZ Voucher
The improved security of EZ Voucher makes it possible for users to reveal sensitive payment information to one secure website rather than multiple websites. While online casino gamblers who properly vet their gaming establishments, including the part of the practice that reassures players that their private financial and personal data will remain safe, can be confident that their experience will be a secure one, the fewer times the information is shared, the better. Even the most reputable sportsbook or other online betting site could find itself in the midst of a data breach. In short, websites like EZ Voucher require gamblers to input payment information once rather than each time they opt to deposit on a new gaming site; this lessens the odds of a problem.
Fees Never Reach the Customer
Gamblers who are looking for information on the processing feeds associated with EZ Voucher will be pleased to learn that they are covered by the website accepting the payment. For instance, when a player chooses to use EZ Voucher, or PasteAndPay, as their funding source at an online casino or sportsbook, the gaming establishment will cover the cost of the processing feeds; should a user choose to purchase a voucher of $100, he or she will pay $100 and see $100 in his or her casino account after the transaction is complete. When it comes to EZ Voucher and processing fees, the customer wins every single time.
EZ Voucher Deposit and Withdrawal Times
Funding a sportsbook or casino account using EZ Voucher is instantaneous, assuming the player's EZ Voucher payment method is valid at the time of purchase. The voucher code is provided immediately, and gamblers may then proceed with the necessary steps to complete the transaction at their gaming establishment of choice. Withdrawal times have little to do with EZ Voucher but rather remain at the casino's discretion. For specific information on withdrawal times at any given casino or sportsbook, seeing the betting site's "banking" tab for full details.
Some Sportsbooks Accept EZ Voucher
Betting on major athletic events like the World Cup or the Super Bowl are popular pastimes, but gamblers who prefer to place wagers on specific games or even the outcome of political races or entertainment awards ceremonies can put online sportsbooks to good use. Like online casino funding, those placing sportsbook wagers can look forward to doing so using EZ Voucher as a payment method. While the payment method may not be the most popular, users committed to finding sportsbooks that accept EZ Voucher will be able to do just that.
Other Popular Payment Methods
Online casino gamblers who are ready to cash in on sportsbook or casino action can take advantage of other popular payment methods. While EZ Voucher is certainly a viable option for those who are in search of secure account funding that acts as a prepaid voucher system other options are available. Popular payment methods at reputable online casinos and sportsbooks often include choices like Visa, MasterCard, Neteller, Skrill, PaySafeCard, ecoPayz, and other selections. Some online betting establishments even welcome American Express, PayPal and Visa Electron.
Commonly Accepted Cryptocurrencies
Like many of the more popular payment methods found at online casinos, gamblers who wish to use an electronic currency like Bitcoin, Bitcoin Cash, Litecoin, Ethereum can often do so. Online casino or sportsbook fans unfamiliar with the cryptocurrency trend should know that these digital forms of acquisition and transfers of funds are a decentralized form of banking that adds an extra layer of security and a surprising amount of anonymity to online transactions; simply put, cryptocurrencies eschew traditional banking practices in favor of an option that provides greater levels of privacy for the user.
EZ Voucher Online Casinos