New Zappit Blackjack at Bovada Casino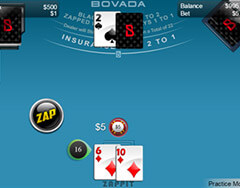 Online casino games players are delivered new online slots pretty regularly, however it's an extremely rare occasion when a new table game variety is launched, however Bovada Casino has done just that. The brand new Zappit Blackjack is now live in both the Bovada Casino and the Bovada Mobile Casino and it offers a great twist on the original classic casino table game. Zappit Blackjack gives players the chance to get rid of horrible blackjack hands that they simply do not want to play, and by hitting the 'Zap' button you may get rid of starting hands of 15,16 or 17 and get 2 brand new cards delivered. This then begins the game again and there's a chance you'll get a better starting position.
Zappit Blackjack rules
The aim of Zappit Blackjack is still the same, i.e you need to get as close to 21 and beat the dealers score, however there are a few changes to the rules that you need to be aware of before you go Zapping those cards.
The dealer must hit on soft 17
Players may split up to 3 hands
Split Aces get one card only and may not be re-split
An Ace and a ten value card does not count as blackjack
Hands worth 15,16 and 17 may be zapped
The real big difference in the rules in Zappit Blackjack is the fact that should the dealer bust with a final score of 22 then this is considered a push and the players bet will be returned and this has been included in order to balance out the house edge. That rule combined with the fact that Aces and 10's are not paid as blackjack mean that the casino advantage remains around the same percentage as regular 6 deck blackjack, however the fact that you may Zap cards and try again is most definitely beneficial for the player. Zappit Blackjack is fast and it's a whole lot of fun and well worth checking out, and the fact that it's available in both the mobile and regular casino is a huge bonus. Check it out at Bovada Casino today! .