Win 2500x Your Bet in Minutes With Jackpot Poker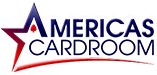 Imagine the fun you'll have watching your winnings pile up, all while knowing you've paid very little to win this much cash. With the new Jackpot Poker, that's what can happen. The new sit and go poker game sees players winning as much as 2,500 times their buy-in in a matter of minutes. Jackpot Poker's release was made known following America's Cardroom's Million Dollar Sunday tournament. During that tournament, DarylDee198888 won an impressive $200,000. While another Million Dollar Sunday Tournament is set to take place on August 2, 2015, the U.S.-friendly poker site felt the need to bring fast-paced poker games on a permanent basis for "players who are on the go."
About Jackpot Poker
With Jackpot Poker, a trio of players go head to head in a fast-paced poker game where buy-ins start at as little as $2. The prize pool is randomly picked right before the game begins and could be anywhere from $5,000 for a $2 buy-in or as much as $25,000 for a $10 buy-in. The games go quick and take, on average, only seven minutes from start to finish.
About America's Cardroom
Since joining the Winning Poker Network in 2011, America's Cardroom is a favorite game among players from the United States and from around the world. The online poker site received a first-place ranking for both cashouts and payment processing in both 2012 and 2013.