Piggy Bank slots shines on 72 year old Swiss player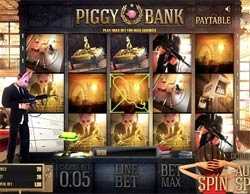 Piggy Bank slots by Sheriff Gaming have made one player from Switzerland wealthy and very happy. A 72 year old pensioner from Switzerland playing at the Monte online casino made it into casino gambling news when she won 90,000 Euros on Tuesday right from her living room. The retired businesswoman named only as Michelle managed to score big on Piggy Bank, Sheriff Gaming's gangster-themed slot title. The theme in the 3D video slot is about a London bank robbery, complete with armed criminals wearing pig masks, helicopters, security cameras, and the city.
Michelle said, "I want to spoil the people I love. My daughter will give birth soon, so I want to get her something very special for the occasion. Then I plan on heading out to the end of the world, first class, at a five star hotel, and enjoy a little luxury!"
Michelle placed an initial wager of 100 Euros to start off with. She turned that into 750 through getting 3 pigs and a wild. Then, she triggered the multiplier bonus round. Rolling the right symbols, the lucky player multiplied her winnings by 4, by 6, and ultimately by 5, resulting in a total multiplier of 120 on the 750 Euros.
While congratulating the winner, Eric Roskamp of Sheriff Gaming also confirmed that "the intricacy of the bonus rounds and multipliers has made Piggy Bank a big hit with players worldwide." Casino Manager Jean-Pierre Lafitte commented positively on the lady's luck while also viewing it as a validation of the Monte Casino strategy of targeting a wide demographics. "It's great to see our players enjoy all the games we have to offer, [and our games], as Michelle has proven, are as great fun for the younger as much as for the older generation," stated Lafitte.