Free Chips at Ignition
Many online gamblers shy away from casino bonus offers because of the sometimes restrictive playthrough requirements that many casinos have attached to their offers of bonus bankroll. Ignition Casino has a bonus system that separates the bonus funds from the cash funds that were deposited by the bettor; by doing this, Ignition Casino has created a bonus system that gives players more control over their cash deposits while maintaining the playthrough requirements casinos use to keep the bonus funds flowing. Online bettors looking for more control over the monies that they deposit into their online casino accounts should continue reading for more information.
Matching Bonuses Increase A Players Bankroll
Like other online casinos, Ignition offers matching deposit bonuses; the difference with Ignition is that the matching bonus is not combined with the cash that is deposited but is kept separate. Upon logging into their account, players will find their cash balance on their account page; the funds in the cash balance can be used in any section of the casino with no restrictions and are eligible for withdrawal. Bettors will also see their bonus balance, there is likely to be a restriction on where the bonus money can be wagered within the casino; this information can be found in the player's Active Bonuses that are discussed in the next paragraph. The Playable Balance is the total cash balance and bonus balance that qualifies for that particular casino game.
Tracking Multiple Bonus Balances
Playing with more than one bonus can be a confusing endeavor; at Ignition, each bonus is given its own status box to explain the key questions that most players will have when it comes to their bonus funds. The bonus status will tell a bettor the status of released funds, remaining funds, playthrough progress and locked funds. Released funds are bonus monies that have qualified to be combined with a player's cash and can be wagered in any part of the casino and can be withdrawn. Remaining funds are bonus monies that remain in a players account but have not qualified to be placed into the released funds. The playthrough progress will tell a bettor how many more wagers are required until the player can cash out the bonus and any winnings from that bonus. Locked funds can be used anywhere in the casino but cannot be withdrawn from an account until the playthrough requirement for that bonus has been met.
No Deposit Bonuses For Ignition Casino Players
Ignition Casino understands that the gaming public can be finicky and works hard to retain its players; one of the methods that the casino uses are no deposit bonuses. Regular Ignition Casino users that are subscribed can find offers for no deposit bonuses in their email and text messages. Bettors only need to put the code into the Redeem Bonus Code field to receive the free chip. Ignition Casino understands that players are looking to get as much out of their wagering experience as possible and the casino will go the extra mile to make that happen.
Keeping It Hot With Ignition's Top Slots
Ignition Casino has a lot going for it, including a wide range of fantastic slots that delight reel spinners from every walk of life. While there are certainly a great number of games that fall at the top of players' lists of favorites at Ignition, three of the arguably most popular slot titles are 777 Deluxe, Bess & Becky and Arrogant Pirates Slots. Check them out at Ignition Casino today or read more about them right here.
777 Deluxe Slots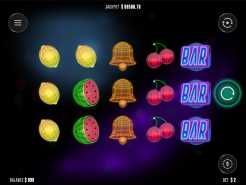 Online casino players who enjoy a throwback to classic gaming while still keeping five reels plainly in sight will be excited with what they find on the screen when they load 777 Deluxe Slots. Offering just 10 paylines, this sweet little game features on numbers; granted, some of them are luckier than others, but the theme is numerical nonetheless. While questioning your slot game is never a good idea, seeing question marks on the reels in 777 Deluxe is one of the most exciting things a player can find; whenever one appears on the reels as a mystery icon, the reveal is likely to leave the gambler with surprisingly great prize. Even better is seeing three question marks on the game screen, as these transform themselves into a bonus symbol that, under the appropriate conditions, will send the player to a second-screen bonus game. This incredible 777 Deluxe Bonus Round is based around the number seven, and the second-screen feature and its associated reels could leave players in possession of multipliers ranging from a paltry 1x to a massive 250x. Additionally, three gold sevens during the feature award the progressive jackpot, which makes 777 Deluxe the luckiest game around.
Bess & Becky Slots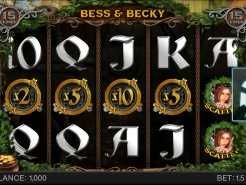 The 5-reel, 15-payline Bess & Becky Slots is a cute game centered around a Pixie theme. Gamblers will find great wild multiplier symbols in the base game that could do incredible things to their winning combinations; available in 2x, 5x and 10x, these great icons are at the core of the payouts in this slot. The free spins feature is triggered when players land at least three fairy symbols anywhere on the reels; awarding 10 free games with a 3x multiplier, this little round has the potential to pack in some big wins. Finally, the bonus round is launched when three bonus symbols, which are depicted by treasure chests, appear; the feature is fairly basic as simply asks gamblers to select one of the treasure chests to determine their prize, but it's a fun way to score a little extra cash in between the big wins that often occur with the wild multipliers and in the free spins feature.
Arrogant Pirates Slots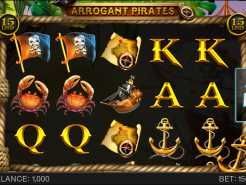 While pirates have long been a theme that graces the reels in casinos around the world, most of those hardened seafarers are big, burly and unpleasant; however, those found on the reels of Arrogant Pirates Slots are somewhat different, starting with the fact that they seem to think they're the finest men to ever grace the surface of the sea. While the graphics and theme in Arrogant Pirates are certainly entertaining, much of the game is a repeat of that which is found in Bess & Becky. In fact, it's almost identical; for instance, three scattered pirates appearing anywhere on the reels will yield 10 free spins with a 3x multiplier, and three bonus treasure chests launch a bonus feature that fully mimics the pick-and-win treasure chest round that we've already explored. However, those chests are a much better fit in Arrogant Pirates than they ever could have been in the previously reviewed game featuring those lovely little faeries. The graphics are basic and only the luckiest players are likely to score the game's top payouts, but overall, it's not a bad way to spend a couple of hours on the reels.