The Rivers Casino (Pittsburgh)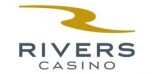 Located in Pittsburgh, Rivers Casino offers 450,000 square feet of game rooms, restaurants, and cabarets. They have close to 3,000 slot machines, more than 100 tables, and a 30 table poker room. Five restaurants make sure guests have plenty of options when it comes to snacks, meals, and beverages. Many Pittsburgh hotels are within half a mile and offer special perks and discounted rates through partnerships with the casino.
Games at Rivers Casino
Rivers Casino has 2,900 slot machines. Popular slot games include The Great and Powerful Oz slots and Sex and the City: Big Diamonds slots. The Great and Powerful Oz slots is a bonus slot game that shares snippets from the classic movie, The Wizard of Oz. Bonus features include the Glinda the Good Witch that rewards players with wild reels, multipliers, or free spins. The Great and Powerful Oz bonus gives seven free spins and with each spin adds a special feature to the round. Sex and the City: Big Diamonds slots captures the appeal of the popular television series "Sex and the City." Mr. Big is very important in this game as he appears and generously gives out random wilds. The women from the show offer their own unique bonuses. Carrie is tied to "The Right to Shoes" bonus, Charlotte is "Glamorous Gifts," Miranda has "Retail Therapy," and Samantha's is "Glimmer Ring." Each bonus offers special bonuses like free spins, free cash, or multipliers. In addition to the huge range of slots, Rivers Casino also offers a number of table games, such as blackjack, craps, and roulette. The Poker Room offers limit and no limit games that include Omaha and Texas Hold'em. In the Poker Room, there are daily tournaments for interested players.
Promotional Offers
There are always promotions in place at Rivers Casino. They change regularly, so be sure to visit their website to catch the current offers. New members earn a free buffet meal at Grand View Buffet. They also earn 250 points if they sign up for the free Rush Rewards Card. Each month there are special offers too. The casino holds a $50,000 Extreme Wild & Crazy Cash contest that has a grand prize of $25,000, second place prize of $15,000, and four additional prize levels. Giveaways, games where everyone wins something, and jackpots round out the promotional offers.
Rush Rewards Card and Casino Credit
Players are welcome to create a line of credit with Rivers Casino before they arrive. The credit application is available at riverscasino.com under the "Casino" tab. Rivers Casino has a Rush Rewards Card that's worth worth. Every time you play a game, swipe your rush Rewards card or present it to the dealer before you play. You earn points for free games, special gifts, free parking, and complimentary meals. Rush Casino is on Casino Drive, right near the Ohio River. It's a quick drive from the Allegheny Center and West End Bridge.