Sands Casino Resort (Bethlehem)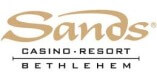 Sands Casino Resort Bethlehem sits about an hour north of Philadelphia and 90 minutes west of New York City. To reach the casino, it's a quick drive from Exit 67 on I-78. Head north on the 412 for just over a mile and the casino is right there. Once you arrive, there is a huge parking garage and a secondary parking lot. Check out the casino resort's hotel packages at PASands.com. Discounted packages include items like $10 in free chips, gift cards to the outlet stores near the casino, and free dinners in the casino's restaurants. The casino restaurants are certainly impressive, so you'll love getting to choose where to eat. Popular chefs like Emeril Lagasse have on-site restaurants that offer incredible meals, or head to casual eateries and Irish pubs.
Slot Machines at Sands Bethlehem
Sands Bethlehem has a poker room and live table games. There are also more than 3,000 slot machines in both smoking and non-smoking rooms. Slot games at Sands Casino range from classic penny slots to exciting bonus slots with interactive games that help you win extra cash. Deal or No Deal slots follows the structure of the popular game show. Choose your briefcase in the bonus round and keep eliminating briefcases or accept the mystery banker's cash offer if you're not certain you hold the largest cash prize. The Sex in the City slot game features the four women from the popular television series. Each of the four women has their own bonus game that rewards you with cash, free spins, or impressive multipliers.
Sands Bethlehem Promotions
The offers at Sands change regularly, so check the promotions schedule to see what's in store during your visit. You might play slots and find yourself automatically entered to win thousands of dollars in a casino sweepstake or earn free meals at area restaurants simply for playing slot games during specific hours. Every Monday, there are Mega Monday giveaways. Every half hour, select players win up to $1,500 in free slot play. There are also monthly giveaways of things like Sands Casino Mystery Cash, new coffee grinders or something as grand as a new truck or SUV.
Sands Pocket Concierge App
Sands Casino Resort Bethlehem has a free app download that sends directions to the casino straight to your mobile device. The Sands Casino App also makes sure you have the current promotions in hand before your arrival, an updated listing of nightly entertainment, hotel deals, special savings at the outlets, and access to reservations and menus for each of the casino's restaurants.
Around-the-Clock Action at Sands Casino
The land-based Pennsylvania casino, Sands Bethlehem, takes guest satisfaction seriously in many ways, but the fact that the gaming establishment is open 24/7 is an excellent demonstration of its commitment to providing quality entertainment. Much like casinos across the globe, Sands Bethlehem is a remarkable experience regardless of what time visitors choose to start playing.
Sands Casino Free Play is Available
While the extensive rewards program at Sands Casino goes far beyond complimentary casino play, those in search of free gaming can start earning it almost as soon as they join. All members have to do to score free play at the casino is convert earned comp points to free slot play; available both online and in the physical casino, the option to convert comp points to free play is an excellent one.
The Sands Bethlehem Poker Room
The luxurious approach to poker play at Sands Bethlehem will leave customers wondering why every poker room doesn't model itself after this one. The 26-table poker room features plenty of comforts, including a smoke-free environment with nearly 20 55-inch televisions, adjustable, rolling chairs, USB ports at every seat, massage service, tableside dining and complimentary drinks. Beyond the careful consideration exhibited in creating the atmosphere, Sands Casino poker players will love the fact that they can look forward to choosing from games like Omaha, Stud and both limit and no-limit hold'em and tables with blinds starting at as little as $3.00 or $6.00. By far the most attractive feature for some players, the Sands Casino poker room also features a daily bad beat jackpot. To find out more, head to Sands itself or visit the website today.
Poker Tournaments at Sands Bethlehem
Speaking of poker, those who prefer the game tournament-style will be excited to read that they have that option at Sands Bethlehem Casino. Scheduled on a daily basis or on alternating days and offering an array of buy-ins that typically range from $75 to $325, serious poker lovers will be pleased with the tournament structure at Sands Bethlehem. Nearly every tournament scheduled at the time of this writing is marked as "No-Limit Hold'em," but gamblers will find other options among those that fall into this category.
Sands Casino Promo Codes Available
Although promo codes for the land-based Sands Casino differ slightly than those that gamblers would find for an online casino, there are still a number of great ways to score massive discounts on gaming, lodging and other experiences at the resort. Among some of the more reputable options for Sands Casino promo codes are websites like RetailMeNot, Kayak, Groupon and Coupons.com. Discount seekers may also occasionally find great deals right on the casino and resort's webpage.
Finding Directions to Sands Casino Bethlehem
Future Sands visitors can find directions to the casino using any of the mapping sites on the web, of course, but the customer service team is always willing to assist customers in search of directions to the property. From a traveler's perspective, the casino's rewards programs is a dream come true; high-tier members can look forward to discounted airfare, ground transportation and even free accomodations certain levels. Dedicated to providing stellar service every day, Sands Casino Bethlehem goes the extra mile for guests.
Cashing in on the Sands Casino Club
The gaming establishment's rewards program, the Sands Casino Club, offers four different tiers that are based entirely on how many comp points a member has earned. The levels, called Play, Escape, Delight and Fantasy offer increasingly great rewards to the gamblers who have reached their ranks. Free food, amazing discounts, free birthday play, access to high limits lounges, hold-your-machine privileges, drawings. promos and invitations to special events are part of the rewards program across all levels at Sands Casino.
Getting the Sands Casino Card
Although gamblers cannot pre-register for their rewards card due to identification requirements, receiving one onsite is a pretty easy process. Simply head to the in-house registration center with a valid photo ID to get started. All visitors to the Sands gaming floor must be 21 years or older.
Finding Sands Casino Deals is Easy
Planning a trip to Sands Casino is a great way to spend that hard earned vacation time, and there are plenty of resources available to those readers who love landing an awesome deal. Whether details on Sands discounts come from the casino itself, it's official webpage or even from elsewhere on the internet, there are tons of options for casino-loving bargain hunters. Don't miss your chance to cash in.