Presque Isle Downs (Erie)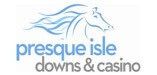 Open 24 hours a day, even on holidays, Presque Isle Downs & Casino offers casino games, horse racing, and poker. In addition to the casino and poker rooms, the casino has a few restaurants, including a buffet, a lounge, and two bars. Live entertainment takes place regularly in the casino's clubhouse.
There is no hotel at the casino, but there are suitable accommodations just across the street. Many area hotels offer free shuttle service to and from the casino, so you don't have to worry about driving. In addition, the casino works with area hotels to extend discounts of 10% or more on room rates and free chips for those heading to the casino.
Find a Huge Range of Casino Games
Presque Isle Downs & Casino has more than four dozen tables and more than 2,000 slot machines available. Table games include a bit of everything, and you'll find great choices for Baccarat, Blackjack, Craps, Roulette.
The slot games range from classic games to video slots with bonus features. Clue is one of their more popular slots. Based on the popular table game, the game features all of your favorite characters, the weapons, and special bonus games that reward you with cash and free spins. There's also a progressive jackpot linked to the game itself that requires you to figure out who killed the victim, in what room, and with what weapon.
Snow Leopard is another favorite. This 5x4 slot game adds an extra row to the reels, so it's easier than ever to win with 40 paylines in all. Win up to 25 free spins that can be retriggered, and enjoy the extra features that include max multipliers, max credits, and max wilds.
Casino Promotions and Special Offers
Presque Isle Downs & Casino features different promotions every month. Offers range from deals like the $80,000 Lucky Loot Giveaway to $100, 000 Scratch and Wins. As the promotional offers change frequently, check CasinoinErie.com before you head to the casino to check the current deals.
Tournaments are also popular. The poker room hosts regular tournaments, such as the Deep Stack, Omaha High/Low, or Splash Madness. Splash Madness is popular because pots of $100 take place every two hours. Poker room players also enjoy Bad Beat jackpots.
Sign up for InClub before you play any games. For every bet you make, you earn a point. As your points accumulate, trade them in for free chips, drinks, food, or entertainment.
Presque Isle Downs & Casino Location
The casino is located in Erie, Pennsylvania, off Perry Highway. Take Exit 27 from the I-90 and the casino is right there. If you're traveling from other cities, Presque Isle is just over 90 miles from Buffalo, New York, and Cleveland, Ohio.