Mount Airy (Mount Pocono)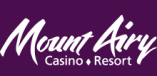 Located in Mount Pocono, Mount Airy and Casino Resort delivers an exciting experience to couples and singles alike. The Poconos is a picturesque town with plenty of hotels, lots of nature parks, and excellent shopping. Mount Airy is situated in the middle of this area, so when you want to leave the casino and explore the outlying areas, there's plenty to do.
More than 2,000 Slots
Mount Airy Casino and Resort has over 2,000 slot machines. Many of them are based on hit television shows and movies, but there is a huge range that suits every taste.
Play Godzilla on Monster Island slots and get drawn into the story of the gigantic dinosaur. Animated monsters fill the reels. When Godzilla appears, his fire breath turns reels wild in a matter of seconds. The Monster Island bonus, Godzilla navigates the city streets destroying buildings for cash. If he finds the military, direct him to blow up the military vehicles and earn cash. There's also the Godzilla vs. Mechagodzilla bonus with multiple levels dishing out cash every step of the way.
Whee of Fortune Triple Extreme Spin slots is based on the popular television game show. There are 720 ways to win, and bets start at a penny, so you don't have to spend a fortune. Two pick 'em bonus games make it easy to win even more cash as you play this fun bonus slot game.
Promotions and Contests
The promotions at Mount Airy change regularly. There are days when seniors 55 and older earn discounts at all restaurants and the casino spa. Certain Fridays, earning 10 points playing casino games gets you a free buffet meal. Friday Frenzy's deliver free cash to players who swipe their membership card before they play.
Free Open Slot tournaments take place from time to time too. With these tournaments, the top player earns thousands in cash. Runners up also win cash prizes. Also watch for Baccarat, Blackjack, and poker tournaments.
The Player's Club is free for anyone who signs up. Use your card before playing any slots or table games and earn points for every bet you place. Trade in the points for free game play and merchandise. Player's Club members also receive member-only privileges. These benefits include valet parking, discounts on spa services and meals at the buffet, and special seating at the casino concerts.
Mount Airy Mobile App
Mount Airy Casino and Resort has a mobile app available to make it easy to research the latest promotions and resort discounts. When you download it, earn $15 in free play, as well as exclusive specials.
Head to Mount Airy Casino and Resort and enjoy a relaxing vacation where you play to win. With restaurants, bars, and lounges in one area, you don't have to travel far to have fun.