Bonus Strategy for Professional Blackjack Games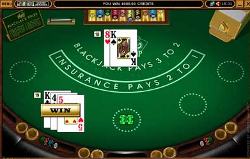 Anyone who is familiar with the game of Blackjack will also be know and understand that this is one of the only casino games where you can actually follow a set strategy in order to get closer to the winning hands. For many years people have been beating the casinos when playing Blackjack . The MIT Blackjack team over the years has been run by different people but the outcome was always the same, they were able as a team to win thousands of dollars thanks to their counting cards strategy and signaling to other players. When playing Blackjack online you are playing by yourself so a team of strategists would not work but that does not mean that you can't employ some basic winning strategies just like the professional players do in land based casinos.
Establish the Game You Want to Play
Firstly it is important to establish which game you have chosen to play of the numerous different versions of Blackjack. There are basic blackjack games, multi hand blackjack games, special bonus blackjack games and even progressive blackjack games. All of which can be found online at leading casinos which also offer flash versions of the games where you can play directly from the web browser of the casinos. Once you have established the game that you intend to play make sure you are aware of all of the rules that apply to the game including the number of decks of cards that are used. If there is a special bonus offered by the casino then you must check out all of the terms and conditions for this bonus. Understand what the minimums are and what is needed in order to withdraw any winnings from the bonus i.e. the play through amount needed. With all this information in hand you are now ready to begin playing. If you can, it is advisable to play for fun or practice before you place real money bets which gives you even more chances to get to know the game.
Different Blackjack Rules
There are many different variations of Blackjack which can be played but the base game always remains the same. The aim of the game is to land as close to the value of 21 as possible or in fact 21 without going over that amount with the cards drawn. The ideal hand is an Ace and a face card which gives you a perfect 21 also known as a Blackjack. Along the way there are various different rules which you can take advantage of and make part of your strategy. The split rule allows you to split two cards of the same value by placing an additional bet and then you have an extra hand. Double Down allows you to increase your bet and take one more card in the hope that this is the winning card. Insurance will cost you but it insures your bet against the dealer landing a Blackjack. It is always a good idea to watch the cards and make note of the different cards that turn up which gives you an idea of what is to come. You can also work out the probability of different cards depending on what has already been drawn. Start your bets low and increase them not only as your confidence grows but also as you know more and more about the cards that have been drawn already.
Enjoy the Game
As mentioned there are many different variations of Blackjack with different bonus options. Bonus Blackjack is one of the most common bonus Blackjack games where you place an extra side bet in which you are betting on landing an Ace and a Jack of Spades giving you a 50:1 payout. Lucky 7's Blackjack offers you the chance to place a bonus side bet on the chance of landing 7's in your hands. Three 7's of diamonds offers you 5000:1 odds. There are also progressive Blackjack games where you can win the progressive pot for certain numbers in a row. The list of different blackjack games is endless but one thing always remains constant and that is the need to understand the game before you start playing and work your way up to the big bets taking your time and not using your allotted budget for the game all in one go. Blackjack is a game to be enjoyed together with the winning opportunities it offers so make sure you that you are also enjoying yourself too.