Red White and Win Slots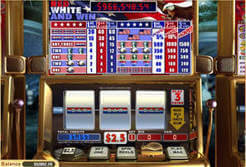 The awesome USA themed Red White and Win has a great all American theme and is a perfect online slot for those patriotic slots fans, of which we know that there are many! You'll see the Stars and Stripes flying everywhere on this well designed machine and it also delivers plenty of US themed symbols on its 3 fast spinning reels of fun. Red White and Win is a classic online slot of the very best variety, the type you used to see in Las Vegas casinos of old, and this little powerhouse can pack a big punch too when it pays out the fantastic progressive jackpot. The progressive jackpot on Red White and Win pays out hundreds of thousands of dollars when it's hit, and that's just one of the reasons why so many slots fans adore Red White and Win.
Features and Symbols on Red White and Win
The symbol you want to see on Red White and Win is the American flag, the Stars and Stripes as when 3 of these line up on the single payline then that will pay the huge jackpot, however there are of course plenty of other ways to get your hands on the cash.
There are two very special symbols on these reels and they are the Statue of Liberty and the Bald Eagle as both act as scatter symbols in that they will pay scatter wins whenever just one of them is seen on the reels. This boosts the amount of small wins that come your way on Red White and Win immensely and gives you plenty of extra spins in search of the bigger win. You will also see plenty of single and double bar symbols and these have also been designed in theme of this slot throwing out yet more red white and blue colors onto the screen.
Betting Options on Red White and Win
Red White and Win offers very simple betting options in fact with one coin each spin will cost $2.50 which appears quite a lot, however as we've mentioned, you only need to see one of the Eagle and Statue of Liberty symbols to get a payout, so the wins make up for the cost. To hit the huge progressive jackpot you will need to be spinning at the maximum 3 coin value and that is $7.50, but remember that when you are playing 3 coins, all wins are x3 too. Red White and Win is a wonderful 3 reel classic online slot, as it's simple to enjoy and provides more than enough chances of banking those big wins that all slots players are looking for.