Life, Liberty and the Pursuit of Happiness
Enjoy life and the pursuit of happiness playing Liberty 7' slots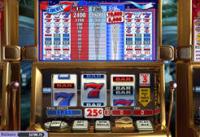 America is the land of opportunity and freedom to reach your dreams. Now you can have the opportunity to win the big jackpots when you play Liberty 7's slots from Wager Gaming Technology. Just for the patriotic person in mind, this 3 reel, 1 payline classic slots game is a pleasure to play and will get you in the mood to sing the "Star Spangled Banner". This game graphically is all about the lucky number 7, stars and the colors red, white and blue. The symbols are very vibrant and the graphics really jump out at you with beautiful colors that include such icons as a Red Seven, Blue Seven, White Seven, Red Bars, Blue Bars and White Bars. There's a nice selection of coin sizes starting at $0.10, $0.25, $0.5, $1, $5, $10.00 with a maximum bet of $30.00. But the real strategy is to go for the jackpots. The USA is all about thinking big and the three jackpots in this game are all about that. Start your celebration off with $48,000 for 3 any Sevens if you bet 2 coins per line. Why stop there, when you can go for the second jackpot of $50,000 for 3 Red Sevens if you bet 3 coins per line. Now you're ready for the big jackpot when you win $100,000 for 3 any Sevens if you bet 3 coins per line. Liberty 7's is a great machine to play, simple, some nice jackpots to shoot for and you can get started right away and get that patriotic feeling along the way.
The brightest colors are at Red, White and Win Slots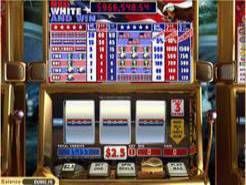 It may not be the 4th of July but you can still win big when you play Red, White and Win slots and enjoy everything America has to offer. Get ready to carry the flag to victory on this classic 3 reels 1 payline video slots game from Wager Gaming Technology. There are lots going on in this game with such features as a progressive jackpot to keep this game interesting. The colors are brilliant and patriotic with lots of reds, whites and blues. The illustrated symbols keep the American theme marching on with a USA Flag, Bald Eagle, Washington, a Seven, Single BAR, Double BAR, Triple BAR, US Dollars, and the Statue of Liberty. There are some nice smaller jackpots to keep you in the game starting at $1,875 for 3 Bald Eagles if you're betting 3 coins per line, or go for the $2,500 if you get 3 Statues of Liberty when you're betting 2 coins per line. You can go for the biggest of the three with $3,750 for 3 Statues of Liberty if you bet 3 coins per line. If you're determined to hit that progressive jackpot you'll need to get 3 US Flags when playing 3 coins. That's not all you can win 10% of the progressive jackpot if you are playing 2 coins and 1% if you're playing 1 coin. Overall this is a fun and patriotic game to play that'll get you in the mood for some good ole' Red, White and Winning.
It's your kick off time to play Bars and Stripes Slots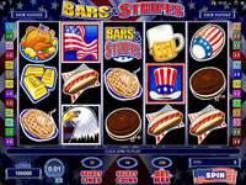 If you savor all the flavors, food and everything American, and dream about that country, then you'll love this 5 reel 25 paylines video slots game from Microgaming. The American orchestra music will get you saluting in no time when those reels start a spinning. This game has lots to offer as you feel more patriotic with every spin. Take advantage of all the features like free spins, multipliers, jackpots and bonus games. Turn on the football game and make yourself some apple pie, you're going to enjoy all these colorful and animated symbols that are bursting full of American colors. March along as you spin with classic iconic USA symbols such as: Apple Pie, Bars and Stripes, Beer, Burger and Fries, Bald Eagle, American Flag, Gold Bars, Hotdogs, Liberty, Oreo Cookie, Seven, Turkey, a Football, and an Uncle Sam Hat. The Bars and Stripes is the wild symbol and the Football is the scatter symbol. There are lots of coin sizes for you select from starting at $0.01, $0.02, $0.05, $0.1, $0.2, $0.25, $0.5, $1.00 with a maximum bet of $250. Then you can take a shot at the jackpots beginning at $6,000, $10,000 and $50,000 for 5 Bars and Stripes on the reels. You can get into the Bars and Stripes Slots Bonus game by hitting 3, 4, or 5 Uncle Sam hats. While you're in the Bonus game you choose which hats have the best prizes and you can win an amazing $475,000.