Roulette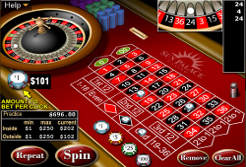 Roulette is a game of class that actually has its origins in France. The word Roulette means little wheel and the whole game is a play on this word. Roulette is a game of luck and chance where you can place a number of different bets depending on your budget and the way that you want to bet. There are inside bets and outside bets. Inside bets are bets which are on single numbers, double numbers or groups of three or four numbers which appear together on the betting grid. Outside bets are bets on larger groups of numbers such as odd or even numbers, white or black numbers or low or high numbers. In any round of Roulette it is recommended to place an inside bet and an outside bet. There are two main variations of Roulette which are based on the different configurations of the Roulette wheel. American Roulette is a wheel with numbers from 1-36 and a single zero and a double zero pocket also within the wheel. European Roulette only has the single zero pocket and numbers 1-36.
Roulette Variations Offer Bonus Winning Chances
Many online casinos for reasons of their own do not like to link Roulette games to the bonus promotions that they offer. If the Roulette games are part of the bonus promotions then the play through is very high - i.e. the amount that they bonus payout has to be bet over and over before it can become yours. This does not mean however that there are no bonus opportunities when playing USA Roulette , in fact this is far from the case. There are a number of additional options which are available in some Roulette games, both with American and European wheels which give you bonus opportunities. The La Partage rule is a well known addition to many Roulette games, mostly European which offers you the opportunity to only lose half of your bet when the spinning ball lands on a zero when you have made an even money bet. In order to take advantage of this bonus opportunity you do have to activate the La Partage rule by placing an additional side bet. En Prison is a similar option for European Roulette players and works when you place outside bets only. In this case the zero is held in place when the ball lands on it and you can spin again. Both of these options offer higher odds to the players and therefore are definitely considered bonus options.
Progressive Roulette Games with Growing Jackpots
Royale Roulette is one of the progressive Roulette games which you can find online. This offers an incredible progressive jackpot which grows with the more players that join the game and place real money bets. In order to win the jackpot you need to land the same number five times in a row so when playing this game make sure that you have enough money set aside in your budget to be able to enjoy the progressive game and also be in with a chance to win the progressive jackpot. The progressive jackpot is in addition to the regular betting grid where you can also land some great wins. Playing Roulette in itself is an honor but when you are playing bonus games with extra opportunities the wheel will come to life in front of you and the enjoyment factor rises up considerably.